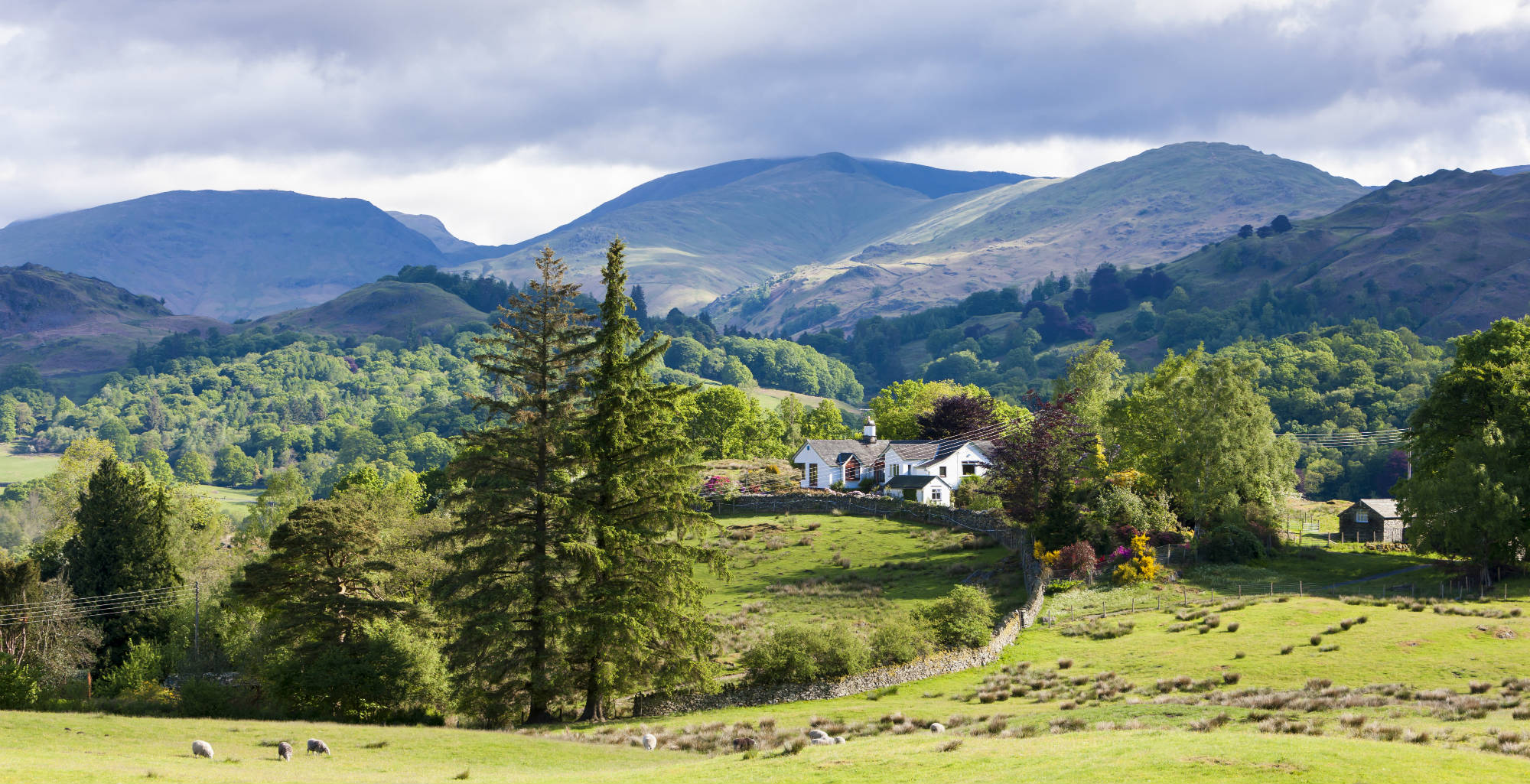 Property in the Lake District
Published Dec 21st 2018
3 mins read
The Lake District is arguably one of the country's most beautiful places, the area is famed for its breathtaking scenery, attracting many visitors year round.
Despite being hundreds of miles from the capital the fastest train into the Lake District from London takes around 2 and a half hours, from Manchester the journey is just under 1 and a half hours. Easy train connections and for those travelling by car, the nearby link to the M6 motorway makes the area popular with those planning a staycation.
With so many popular towns and villages to choose from it can be difficult to decide which will work best for you. We're often asked – where are the best places to buy a property in the Lake District?
Property around Windermere
Located in the centre of the National Park, the are surrounding Windermere is particularly popular, offering visitors a little of everything the Lake District has to offer. Windermere is the largest lake in the UK, surrounded by pretty villages set between the mountain peaks, the area is particularly picturesque.
Windermere has a Golf Club, Yacht Club, Motor Boat Club and a Marina Village, there are many activities to undertake on and around the lake.
The village of Bowness-on-Windermere is particularly popular with families visiting as it is the location of The World of Beatrix Potter attraction. Property in Bowness-on-Windermere is made up of mainly detached properties, several set on small cul-de-sacs which appeal to those seeking a quiet retreat close to many of the local attractions.
Homes in Hawkshead
Largely made up of whitewashed cottages set on cobbled lanes, the village of Hawkshead is perhaps one of the prettiest in the Lake District. Beatrix Potter's home is located here and there is a local gallery where you can find her sketches and manuscripts.
Nearby Esthwaite Water is a good spot for bird and general wildlife watching as well as fishing. To the southwest of the lake, Grizedale Forest is popular with those mountain biking and is also the location of a Go Ape facility where you can take zip wires and high ropes.
Second home in Ambleside
At the northern tip of Windermere Lake is the small town of Ambleside. The town allows those staying to enjoy both the amenities it has to offer whilst having direct access to some fantastic walking routes and all whilst enjoying the stunning views.
Rydal Water and Grasmere Property
Further north of Ambleside, on the road which leads to Keswick are Rydal Water and Grasmere. Properties around these smaller lakes, outside of the village centres can often feel secluded whilst having lakeside walkways nearby.
This area is famed for its connection to the romantic poet Wordsworth and many of the local walking routes take you past some of his properties such as Dove Cottage and Rydal Mount.
Living in Grasmere
Grasmere is a charming village, known for its Gingerbread which can be bought at the Grasmere Gingerbread Shop.  Though small it is a popular place to visit and stay, there are many shops, pubs and cafes including the popular Baldry's Tea Room.
Homes around Ullswater
Ullswater is the second largest lake in the Lake District, the area is popular with those who enjoy watersports and fell-walkers. Local fells include Dollywagon Pike, Helvellyn and Place Fell. There are also lake cruises on offer and many are drawn to the Aira Force waterfall.
Villages surrounding Ullswater such as Patterdale, Pooley Bridge and Glenridding are all popular destinations, whilst each have their own amenities for day-to-day, the larger town of Penrith is within easy reach for a wider selection of shops.
Property in Keswick and around Derwent Water
Derwent Water lies in one of the Lake District's most picturesque valleys, Borrowdale. For those seeking outdoor adventure the area offers good walking and climbing routes around the lake. Small, pretty lakeland villages such as Grange are dotted around Derwent Water, nearby are the fells of Catbells and Maiden Moor.
Keswick is a bustling town with many amenities, particularly shops selling outdoor equipment. Only a short walk to the banks of Derwent Water, residents can enjoy a busy surrounding with tranquillity only moments away.
The Lake Districts only official 'lake' Bassenthwaite Lake is northwest of Keswick, the area is a designated nature reserve.
Off the beaten path
Many seeking property in the Lake District are in fact seeking a secluded place surrounded by nature, there are several lesser known lakes with few towns or villages nearby, only cottages and farms with faraway neighbours. Lakes such as Loweswater are such places, property here is often stand alone.
Buying a home in the Lake District
Many who visit the Lake District are so taken by its charm that they decide to purchase a second home in the area. Finding a property in an area that is not near to your main residence can be a challenge which is why so many clients turn to Garrington. Furthermore, deciding on the ideal location with so many options to choose from can be difficult, our expert consultants can advise on which areas would work best for your lifestyle and requirements.
If you'd like to learn more about our property finding services please, contact us for a no obligation discussion.